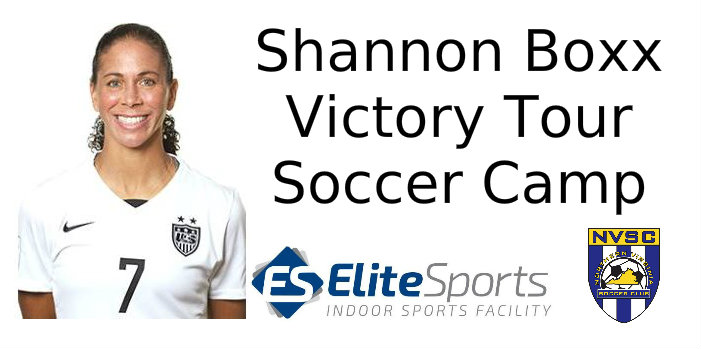 Shannon Boxx is a member of the current World Cup winning United States Women's National Soccer Team, playing the defensive midfielder position. She is a 3 time Olympic Gold Medal winner and her teams have finished third place or better with the USA at the 2003, 2007, 2011 and 2015 FIFA Women's World Cups. Shannon was a finalist for the 2005 FIFA World Player of the Year award, and won an NCAA Women's Soccer Championship with Notre Dame in 1995. Shannon is the only player in women's soccer history to score a goal in her first three matches with the national team.
Dates: August 21st, 22nd and 23rd, 2015
Times: 5:00pm to 7:00pm or 7:00pm to 9:00pm
Where: Hellwig Park Turf Fields 7 and 8 (14420 Bristow Road, Manassas, VA 20112, after entering the park take your first right and drive back to the turf fields)
Who can Register: Girls and Boys U7 - U18 (born 08/1/1997 to 07/31/2009)
Cost: $250.00 for 3 days, 2 hours a day (pick your time slot from above), Shannon Boxx and NVSC Coaches will be doing the training each night. First 30 minutes each night will be reserved for autograph session with Shannon Boxx, we will split up the attendees by last name and have a group each of the three nights for anyone that wants to have an autograph. The rest of the session will be training.
All Registrants will also get a t-shirt for signing up.
The NVSC portion of the proceedings will go to our Financial Aid Fund to help players pay for Recreational and Select Soccer.
When registering look for the "Special Events - Shannon Boxx Camp" listing in our open programs.
There is a limit of 200 registrations for each time slot, so register NOW!!!