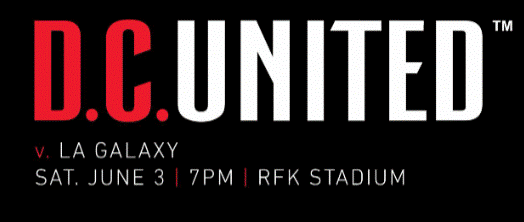 NVSC Family Fun Day
Event Info:
D.C. United vs. LA Galaxy
Saturday, June 3rd 7:00pm
$18 per ticket in Sideline Section (regularly $35, incredible value!)
Click HERE for a Stadium Map
Full Day of Events:
3:00pm or later - Members arrive (NVSC will have full use of Lot 7)

3:00pm - Auxiliary Field usage begins (NVSC members will have use of D.C. United's auxiliary field)

3:00pm - 5:30pm - Tailgating is recommended, tailgate as a team or a group

5:30pm - Auxiliary Field usage ends/Participants head to RFK

6:00pm - Gates Open (All NVSC players who are participating in the field level experiences must report to their respective gate by 5:45pm to check-in)

6:30pm - NVSC Players participating in on-field experiences take the field

7:00pm - D.C. United match begins (All participants in field level experiences are escorted back to their seats to watch the remainder of the game)
ORDER EARLY so that you don't miss out! Ordering will be done through your account just like registration. Simply log into your account, star the registration process just like you would for registering a player for rec or a camp but when you get to the select Open Registration you will select the D.C. United Tickets - June 3rd, 2017 DC United Game - NVSC Fun Day program and select the number of tickets you will need for you and your family/friends/team.
*NVSC ticket vouchers purchased during regular recreational registration may not be used for this particular match*
There will also be on-field experiences available on a first-come first-serve basis. There is no extra charge for participating in these events.
Field Level Experiences:
Team Tunnel: Opportunity to welcome D.C. United to the field by cheering them on in a high-five tunnel as they walk out for player introductions and the National Anthem. 5 years of age and older, 45 maximum kids.
Flag Carriers: Carry and present the large U.S. flag onto the field for the pre-match ceremonies and National Anthem. U12 and older, 45 maximum kids.
DEADLINE TO PURCHASE THESE NVSC FAMILY FUN DAY D.C. UNITED TICKETS IS MAY 29TH, 2017
TO PURCHASE TICKETS NOW FOR THE NVSC FAMILY FUN DAY PLEASE CONTACT STEPHANIE SMITH AT SSMITH@DCUNITED.COM