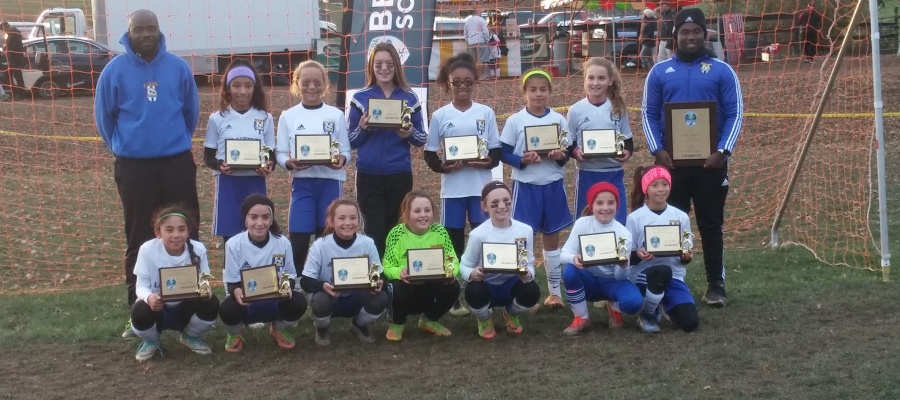 The 06 Girls CCL team endured frigid temperatures and muddy fields all weekend to come
out on top, and be crowned Champions of their flight at the 2017 Bethesda Premier Cup
tournament this past weekend.
This was the first year that the 06 Girls CCL team competed in the Bethesda Premier Cup.
The tournament is one of the top competitive youth soccer tournaments in the country with
over 1,200 of the top clubs in the country participating.
The first game was against Hershey Dynamite from Hershey Pennsylvania-East. The
temperature at kick off was 18 degrees and the fields were frozen. NVSC played to a 3-1
victory.
The second game ended in a 2-2 time against Empire United Rochester from New York.
Sunday morning the girls played in a must win match against Bethesda SC Academy from
Maryland on fields that had thawed, but were now a mud pit. NVSC prevailed with a 4 to 1
win to secure their place in the Championship.
In the finals, NVSC played the most competitive team of the tournament, Montgomery United
Milian from Pennsylvania-East. The teams traded goals until late in the 2 nd half when NVSC
took the lead with a goal in the last 5 minutes of the match. The girls played out the clock
with a tough defensive effort that ended with a 3-2 victory.
Coach Patrick Dacosta stated "This was the most evenly matched and competitive team we
have played in some time, and the ladies' efforts were outstanding".