Last week, NVSC made the decision to cancel our participation in the Super-Y League for summer 2020. There was too much uncertainty about the Phases of reopening, Super-Y's start-up date and the number of games that we may, or may not, be able to complete. Rather than having a less than pleasant experience, we felt that cancelling our participation this season made the most sense for everyone. We are in process of refunding the league registration fees; the refund will be paid directly back to the credit card that you used to pay originally.
We appreciate your patience in working through this with us, and we look forward to Super-Y 2021.
For Super-Y questions, please contact Marie Schweitzer, NVSC Super-Y Director at marie.schweitzer@novasc.org; if you have any questions regarding the refund process, please contact NVSC at info@novasc.org.
Thank you.
NVSC Staff
The NVSC 06 Girls coached by Marie Schweitzer and Nicole Schweitzer go undefeated in the Mid Atlantic Division in the Super Y League. The team will travel to Tampa, Florida to participate in the Super Y Finals in December.
NVSC U15 Girls coached by Brandon Webster and Carmen Suarez secure first place the Mid Atlantic Division. The team will participate in the Super Y Finals in December.
In 2018 three NVSC teams advance to the Super Y Finals in Bradenton Florida and depart on December 6th. Good luck to our 04, 05 and 06 Girls coached by Marie Schweitzer, Nicole Schweitzer, Eber Martinez, and Patrick DaCosta.
Welcome to the 2018 Super Y Season
Super Y Nationals 2017 Recap Video
Villafan is a technically-skilled player with great vision and decision making abilities, taking space and playing passes well. She excels in 1v1 situations and is versatile enough to play multiple defensive positions. Both humble and passionate, she's a strong leader on the field.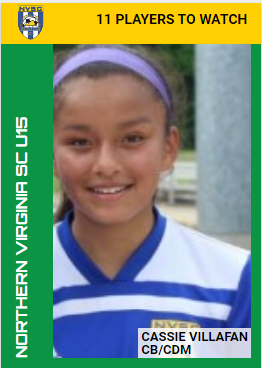 The 2019 Super Y League Finals kick off next Friday, and will feature some of the nation's top youth soccer talent. But even among a field full of great players, eleven in particular have caught the eye of the USL Scouting Network.