The Super Y League has been closely monitoring all guidance from the Centers for Disease Control and Prevention (CDC) as well as other local, state, and national health authorities regarding COVID-19.
While no decisions have been made at this time regarding the 2020 Super Y League summer season, the health and wellness of everyone involved with our league is our top priority, and we are committed to finding a solution that works best for all our clubs.

We want to thank our coaches, staff, players and their families from around the country for their support and understanding during these extraordinary circumstances. We will continue to monitor ongoing events, receive guidance from health authorities, and provide more information about the 2020 season as soon as it is available. We also want to extend our support and best wishes to all the individuals and communities who have been impacted by COVID-19.
The 2020 Super Y League season runs from mid-June through the first weekend of August. After league play based on standings some teams may advance to the Super Y Finals in Tampa, Florida in December.
Summer Super Y Age Groups
U11 - 2010 (9 vs 9), U12 - 2009 (9 v 9) , U13/14 - 2008/2007 (11 v 11),
U15 - 2006 (11 v 11), U17 - 2005/2004 (11 v 11)
Preliminary tryouts were completed the first two weeks of January. We do have availability on the U11 (2010) Boys, U12 (2011)Boys, U11 (2010) Girls, U14 (2007) Girls, and U17 (2005/2004) Girls . If you are interested in a tryout/evaluations for one of the teams listed above, email nvscsupery@gmail.com.
Villafan is a technically-skilled player with great vision and decision making abilities, taking space and playing passes well. She excels in 1v1 situations and is versatile enough to play multiple defensive positions. Both humble and passionate, she's a strong leader on the field.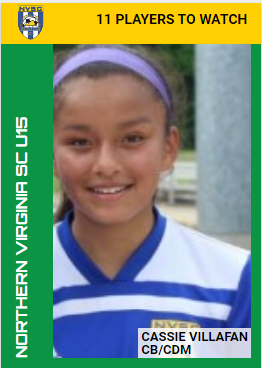 The 2019 Super Y League Finals kick off next Friday, and will feature some of the nation's top youth soccer talent. But even among a field full of great players, eleven in particular have caught the eye of the USL Scouting Network.
The NVSC 06 Girls coached by Marie Schweitzer and Nicole Schweitzer go undefeated in the Mid Atlantic Division in the Super Y League. The team will travel to Tampa, Florida to participate in the Super Y Finals in December.
NVSC U15 Girls coached by Brandon Webster and Carmen Suarez secure first place the Mid Atlantic Division. The team will participate in the Super Y Finals in December.
In 2018 three NVSC teams advance to the Super Y Finals in Bradenton Florida and depart on December 6th. Good luck to our 04, 05 and 06 Girls coached by Marie Schweitzer, Nicole Schweitzer, Eber Martinez, and Patrick DaCosta.
Welcome to the 2018 Super Y Season
Super Y Nationals 2017 Recap Video